Dear Friends
We are excited to announce our July 2022 Group exhibition: "Pop!"
Featured Artists;
Mark Brosmer, Michele Castagnetti, Joseph De Sanze, Andrew Eyler, Dave Graham, Sondra Jolles, Martyn Jones, Ryan Lane, Kathe Madrigal, Crystal Michaelson & Bill Sherwood.
Please join us for a Gallery Reception on Saturday, July 23rd from 6-10pm.
Exhibition dates: 7/5/22 - 7/31/22
We look forward to seeing you!!

Dear Friends,
We are excited to announce our July 2022 Solo exhibition -
Richard Bell: "A Period in Time"
Please join us for a Gallery Reception on Saturday, July 23rd from 6-10pm.
Exhibition dates: 7/5/22 - 7/31/22.
We look forward to seeing you!!
Mark Brosmer
"I just felt like painting bubble wrap."
- Mark Brosmer
Michele Castagnetti
"This artwork is inspired by the cult Italian Westerns mostly directed by Sergio Leone. During a trip from Milan to New York, I was seated next to a Spaghetti Western director named Tonino Valerii, who worked with Leone and directed "My Name is Nobody" with Henry Fonda and Terence Hill. We talked of everything Western for the entire trip and that night, after opening a spaghetti box, I had the inspiration to create this artwork.
I created a giant box of 'Barilla' spaghetti, featuring the actors of these films overlaid on an exact reproduction of the packaging. This specific canvas type was custom printed with archival pigments to give the appearance of the actual cardboard box. The partial reproduction of the packaging sides includes some of the nutritional information and cooking instructions as they appear on the box.
The art piece, embedded with pop humor and a giant prop filmmaking sensibility, is meant to bring a smile and to keep the memory of such films and actors alive." - Michele Castagnetti
Andrew Eyler
"Generation V"
"Liberated from rebirth, the spirit, silent and selfless, void of fear and depravity, guided by love and affection - the path to eternal bliss"
- Andrew Eyler
Joseph De Sanze
Jade - "When I'm good, I'm very good."- Mae West
Eye c u - "Every child is an artist" - Picasso
Gum Balls - "You only live once, but if you do it right, once is enough." - Mae West

Dave Graham
"I am very grateful that life has given me the opportunity to explore the different avenues which appeal to me as an artist, and I must say that I love getting lost in my imagination as I watch what is happening on the canvas! It can even sometimes feel like I am watching someone else paint and I am just an observer wondering how this is happening and if I am truly responsible, or am I simply being guided by a part of my consciousness that I have no control over.
I seem to drift into a place where there are no limitations, a place where anything is possible as I become completely absorbed and it feels like I am becoming part of the painting itself, it's a beautiful and freeing experience. But an experience that is as elusive as a dream, a dream I will most likely spend the rest of my life trying to capture while I wonder if I will ever be satisfied with my efforts."
- Dave Graham
Sondra Jolles
"If you know my work, you will know me."
- Sondra Jolles
Martyn Jones
"My works are abstract, but the inspiration and basis for them are found in reality and the world around me; my experiences of the world are the prime material for abstraction. I want to welcome people into my world, through a personal alphabet of shapes and colour. My responses are really a stream of consciousness drawing on this alphabet that I hope evokes the way in which I see the world, which is always as a place of beauty, far better than we are generally led to believe. I attempt to convey a sense of the grandiose and the sublime that is timeless and eternal. This is where the sense of touch comes in. It is not physical but mental and emotional.
I try to create a sensory experience through my work, the visual is obvious, but sound, touch, smell and even taste are important in the kind of synaesthesia that Kandinsky, Heron and Miro visually communicate, so that a work might suggest more than what is seen. I celebrate vibrations or sound through the use of colour in painting. However, I sometimes work in silence, listening to the noise of the natural world and this again informs the shapes and colours that I use.
A further sense comes in the use of saturated colour that you can almost taste. I paint expanses of colour but within these are small jewel-like accents of bright glimmering ultramarine, umber, violet or viridian creating deep sumptuous chromatic blacks on the canvas. Turquoise is often used and is a tranquil colour, transcendent, quiet and deep. One key motif in my work is the apparent chalk line. I see these as precious and fragile, it is time-consuming to achieve. They seem to be simple, a gesture made by a child in chalk, and I feel that I capture the spontaneity of a child's drawing with them, however, these lines cannot be created with a single or continuous brushstroke, they are painstakingly made with a tiny brush. The overall effect has a sense of immediacy, but the creative process is very different to this.
I think ultimately, I am searching for something unobtainable, a calm tranquillity, an impossible form of transcendence, a perfect existence and that is what brings me back to the canvas."
- Martyn Jones
Ryan Lane
"The series is based on the idea that dissolution can be harmonious and beautiful. The big paintings that I have been working on are individual panels 1-80 with the most dots being #1 and the least remaining dots #80. The loss of dots is very gradual and based on losing a greater percentage of them at the bottom than the middle and then the top. The series started as a metaphor for loss of social fabric but has morphed into a study of the beauty of expected losses and the patterns that form.
The titles are panel numbers starting from the top and their sequence per row. I'm looking for the most dramatic sequences and order. I was working with Composition 3 for awhile but abandoned it because I did not feel it was working well enough. So on Composition 5 I developed an equation to eliminate points which has interestingly enough made the dissolution much more organic."
- Ryan Lane
Kathe Madrigal
"In the end, I'd like to know that I did what I loved and that this is my purpose. I'd like to know that my paintings move people emotionally even if they don't know why. I like to hear the stories that my viewers create about my pieces. It's like I have many psychotherapists revealing to me my psyche by just telling me what they see or why they think I painted it. And I never correct them. I think we all see what we need to see. Now, I'd like to expand my viewership and gather those stories to weave into my existence."
- Kathe Madrigal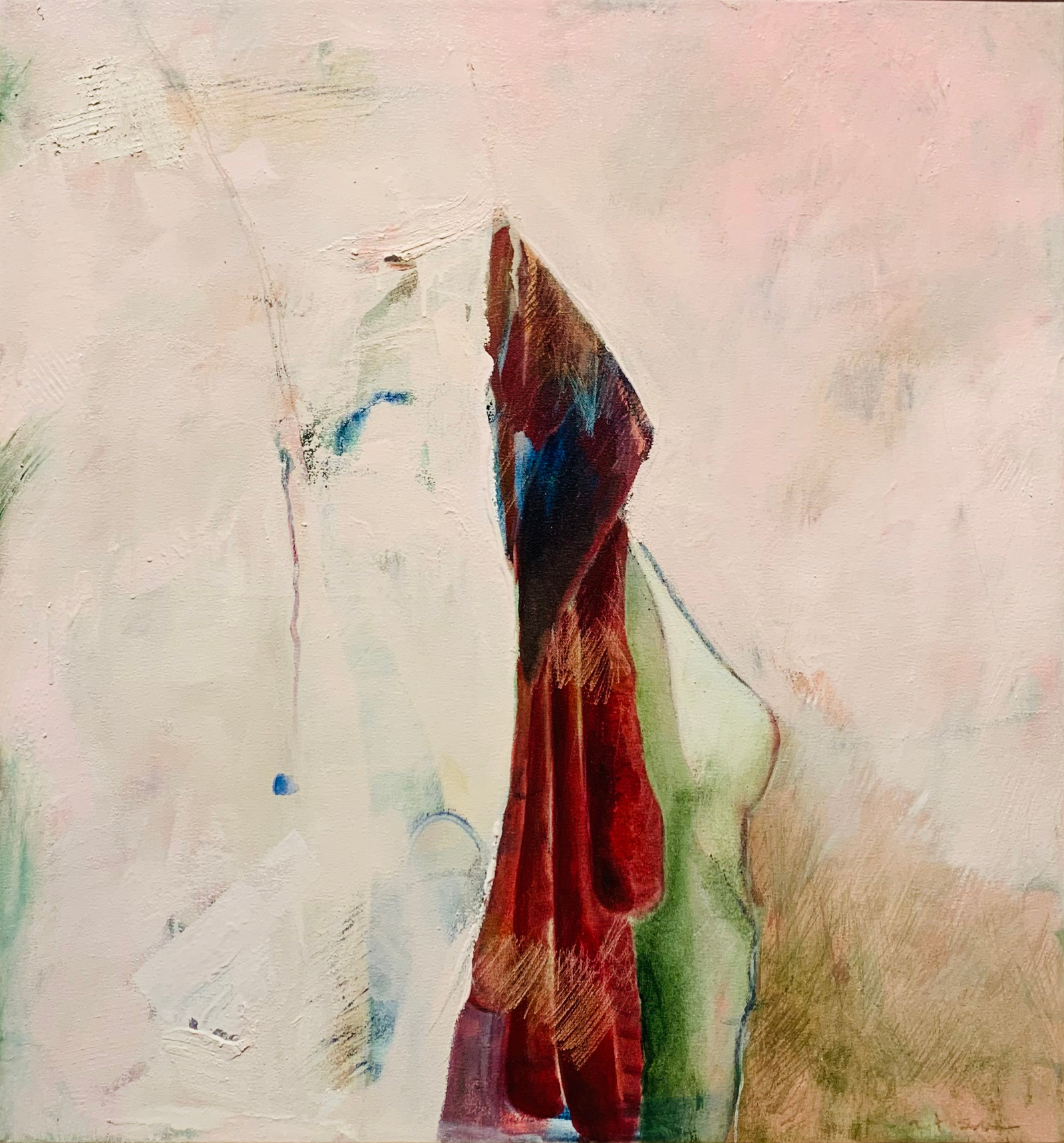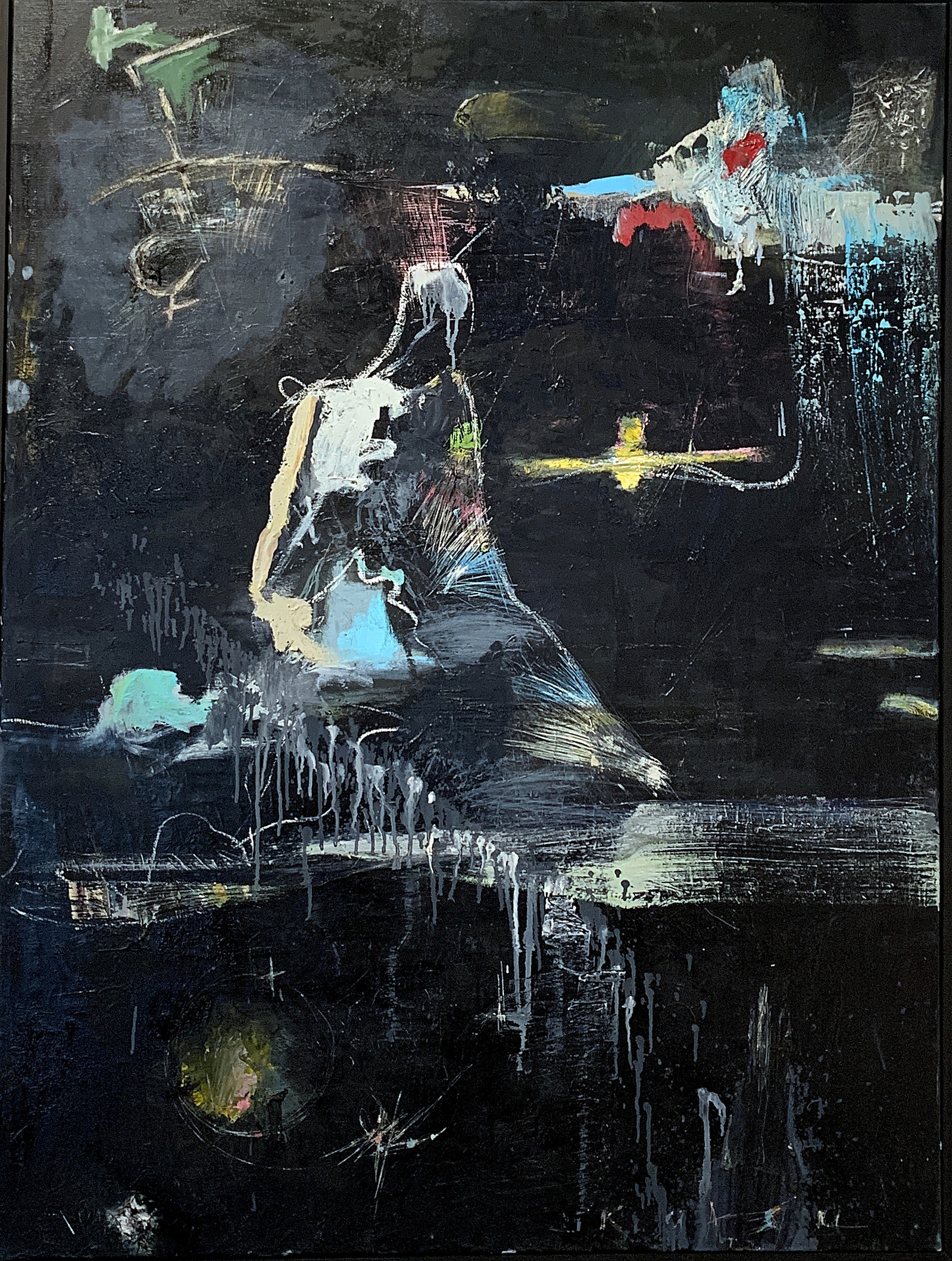 Crystal Michaelson
"My art expresses the interplay I have with my environment. Intuitive marks and gestures guide me through a process of layering, constructing, deconstructing and reconstructing, until
the work dictates when it is time to stop. Obscure hints of landscape, or of a line drawing, result in compositions that help map my journey.
I have used my painting and mixed media artwork as a means to reflect my personal observations of my ever-changing world.
Passionate, visceral, structural, immediate, raw, spontaneous, chaotic colorful scribble, monochromatic serenity, architectural."
- Crystal Michaelson
Bill Sherwood
Skid Row Conversations is an ongoing project- a journey of mine that began in the fall of October 2019 when I began walking through a section of DTLA (Downtown Los Angeles), known as skid row having open conversations with its residents. The visual and abstract expressions presented in this series are a result of those conversations.
Bill Sherwood
Richard Bell
"A Period In Time "
"This show is the body of work forcefully extracted from feelings of isolation and profound change that was brought upon by a global pandemic.
I found it very difficult to work during this time, which compounded my lack of motivation.
Through the complexity of notes and tones resonating through my Studio from the creativity of Miles Davis, John Coltrane, Dizzy Gillespie, and other Jazz Giants, and studio visits from friends that so graciously allow me to paint them, this show was born."
- Richard Bell