GDCA Gallery proudly announces our September, 2022 Group Exhibition: "Metropolitan!"
This show explores the historical landscape of the DTLA art scene. The curatorial collaboration of Jonathan Jerald and Petra Wright assembles a three-part show, including an exhibition of eight widely divergent LA artists, an extensive collection of works by Emmeric Konrad and Rick Robinson's 50 'Pink Fist' wall sculptures offered as a fundraiser to help register voters (more at
www.pinkfist.com
)
The signature voices of these artists are LA trademarks - as recognizable as they are evocative of the brutal sophistication that is DTLA Bohemia.
Group Show Participants: Mark Brosmer, Michele Castagnetti, Edem Elesh, Tanner Goldbeck, Gronk, Kathe Madrigal, Antonio Mendoza, Rick Robinson, and Bill Sherwood.
Please join us for a Gallery Reception on Saturday, September 24th from 6-10 pm.
Exhibition dates: 9/8/22 - 9/30/22.
We look forward to seeing you!!
GDCA Gallery proudly announces our September, 2022 Solo exhibition -
Emmeric Konrad: "Bring Tequila"
Emmeric Konrad's work is exuberant, provocative and often profane. With signature bold, gestural strokes he explores with brutal honesty, keen intuition and dark humor the human condition from innocence to the orgiastic.
Please join us for a Gallery Reception on Saturday, September 24th from 6-10 pm.
Exhibition dates: 9/8/22 - 9/30/22.
We look forward to seeing you!!
Mark Brosmer
"Mark Brosmer's fascinating dreamscapes depict a world where the real and unreal fill the canvas equally. Brosmer is an artist whose work consciously reflects the elements of earth, air and water. The simplicity of each work is expressed with and encourages the viewer to explore visual puzzles. Brosmer says, "The places I've created in my paintings are representative of our earth as we know it, yet more distant than we would care to imagine. My work lives in a silent environment where time fails to exist, where focus is shared between symbols and their surrounding areas."
Michele Castagnetti
Michele Castagnetti uses familiar iconography, branding, and humor to comment on American consumerism. He creates playful, tongue-in-cheek narratives that challenge the viewer to question prevailing norms. Castagnetti is an Italian transplant and he finds America inspiring for artists because of the many paradoxes in American culture. As Castagnetti says, "you'll have a homeless man passed out next to a Lamborghini." It's a land of extremes that gives Castagnetti fuel for his artistic commentaries. Castagnetti's gun-toting American Jesus is very different from the Catholic iconography of his youth. His Jesus the Hunter envisions a literal modern-day Christian soldier. Castagnetti's work is incisive but he doesn't take himself or his art too seriously. He invites the viewer to look a bit deeper at the things that we take as fact and see as commonplace, while poking fun at the absurdity of life.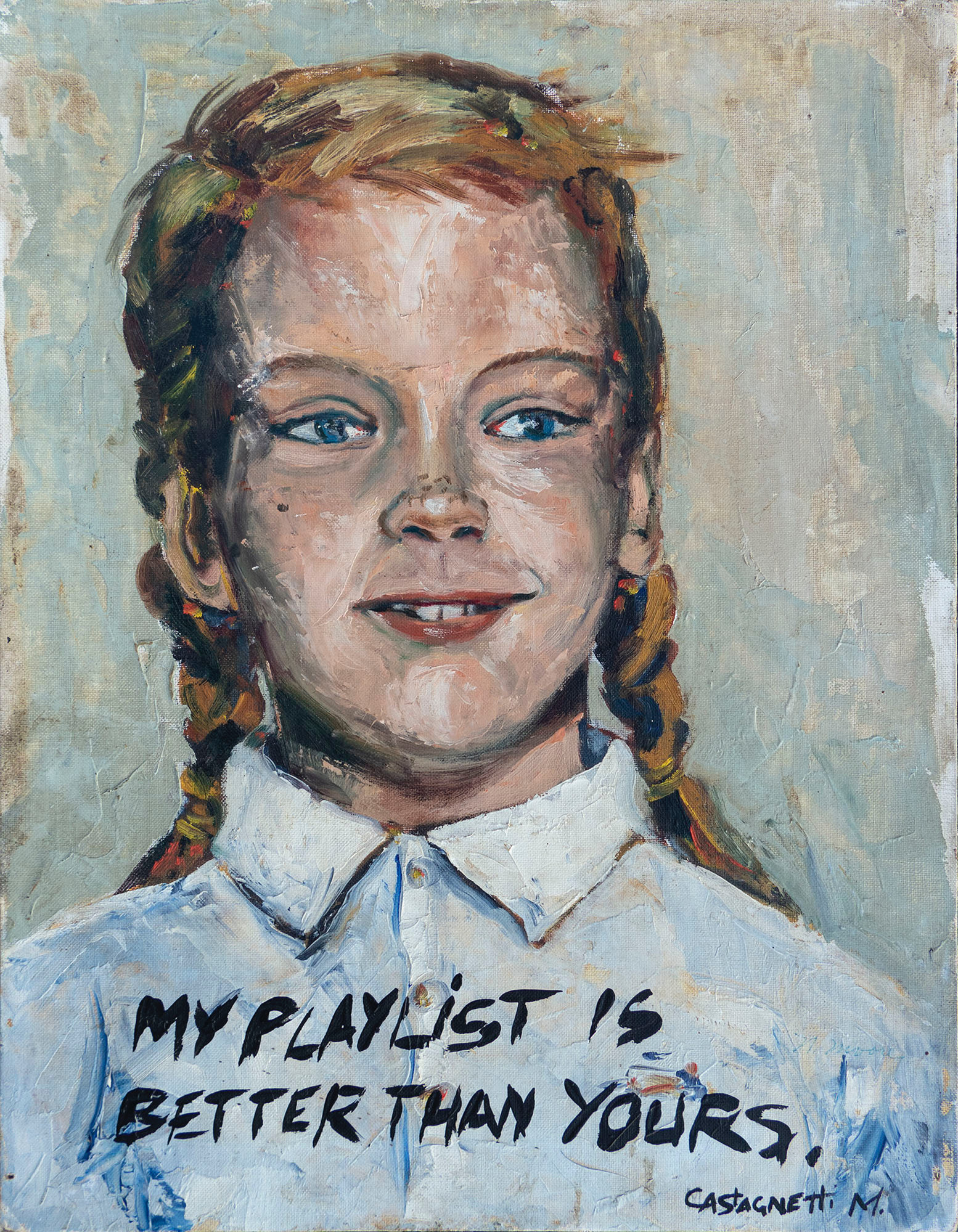 Edem Elesh
"Edem has always been blessed when creating Fine Art. During the withdrawals from lock downs and travel bans in 2021, when physical participation in exhibitions and International Exchange Shows was still not the norm, Edem was interviewed by Voyage L.A. Magazine in March of that year. His art and, as importantly, his music project KinderCrowdControl, was featured. A PR firm out of Nashville, Tennessee read the article, checked out his music, and signed him up to be part of their prestigious client list. Since music requires no physical space to exist in, this was synchronicity at work. Since then, Edem and his collaboration partners Brett Smith and celebrated Croatian Fine Artist Sandra Ban, have penned amazing some music. Their works even greatly impressed a very important music industry impresario who continues to support their musical endeavors to date. In 2022 travel bans were finally lifted and Edem enjoyed participating in 2 shows (Modesto, California and Poland) where he returned to his on-the-spot 5 X 7" oil pastels. These small, rapid studies celebrate the freedom of autonomous travel, and documenting physical time and place. Continuing on this path, Edem's new "Album Series" combines his previous works involving the use of tar, oil, patinas, and mixed media on aluminum panels, with these new 5 X 7" "gangsta" oil pastels. The concept is to create "album art" that is not based in consumerism or overt product marketing, but rather to explore the metaphysical aspects of the subject matter (and context) using the square album format."
Tanner Goldbeck
"Focusing on imperfections, celebrating what's broken and revitalizing the bland ...
a simple foundation for what Goldbeck's art is about. Tanner is a painter first and foremost with a long history in illustration and commercial art. Originally kept as separate disciplines, they have become integral parts of a unified process. On one hand having a true love for clean lines, sharp detail and a sense of order while also finding energy and inspiration in the chaos of misprints and blemishes. Imperfections being the best part of any character.
Goldbeck finds an element of play and freedom in re-purposing his old illustrations. By dismantling previous works and recombining them into larger conceptual paintings, every line revisited still holds a personal history and a memory. The results are perhaps best described as a form of visual chatter. A feeling not unlike entering
a room full of people all talking at once. "I see this practice now transcending from my studio to how I view people in real life. How I've always seen everything for that matter."
- Tanner Goldbeck
GRONK
"Gronk is easily one of the most recognized LA Chicano painters - and yet he remains a mysterious and mercurial figure. Growing up in East Los Angeles amid poverty and police riots, Gronk became an autodidact whose critical interests included art cinema, modernist theater, and campy B-movies, along with a wide array of philosophers, theorists, and writers. Also described as a co-founder of the Chicano conceptual art group Asco, Gronk's work is a "hybrid voice that speaks in many artistic tongues": painting, drawing, graphic arts, murals, performance art (street, stage, and video), photography, set design, ceramics, and computer-generated animation. Gronk's self-invention, hybrid voice, and conceptualism pose a challenge to clear-cut categories, identities, and practices—including the gallery system, toward which he remains ambivalent, but within which he has succeeded. "In the end," he explains, "I am not going to ask for permission to do something."

ANTONIO MENDOZA
"These collages have been put together from street posters that I take from walls around LA. It's a form of reverse graffiti in that I take material from the streets and reconfigure it as these paintings.
Though I think of these work as paintings—and I do use some paint—I purposely try not to use any painterly techniques. There's nothing nice about what I do when I work. I use chisels, power tools, sandpaper, and weapons instead of brushes and palette knives. I rip, scratch, hack, slice, tear, sand, glue, drill, drip, carve, drag, and cut, and then I magically put it all back together.
Collages are like witchcraft. You throw into a cauldron disparate bits and pieces, stir, and hopefully when you're done the magic happens. As I make each piece I am casting a spell. And like most spells, they're all about sex, death and living.
If I were to describe what my works represent, I could say that I'm a hacker admiring a computer virus; a recycler scavenging the detritus of living; an economist witnessing end of capitalism; an urbanist diagramming the death of culture; a chronologist recording the end of meaning."
- Antonio Mendoza
Kathe Madrigal
"The meeting of energy and matter is creation. I bring them together as they tell me.
Applying paint and editing back is one of my favorite techniques. Layers of structure and color are revealed through razors, blowtorch and hot wax. It's a process of searching within our Psyche to discover our complex selves."
- Kathe Madrigal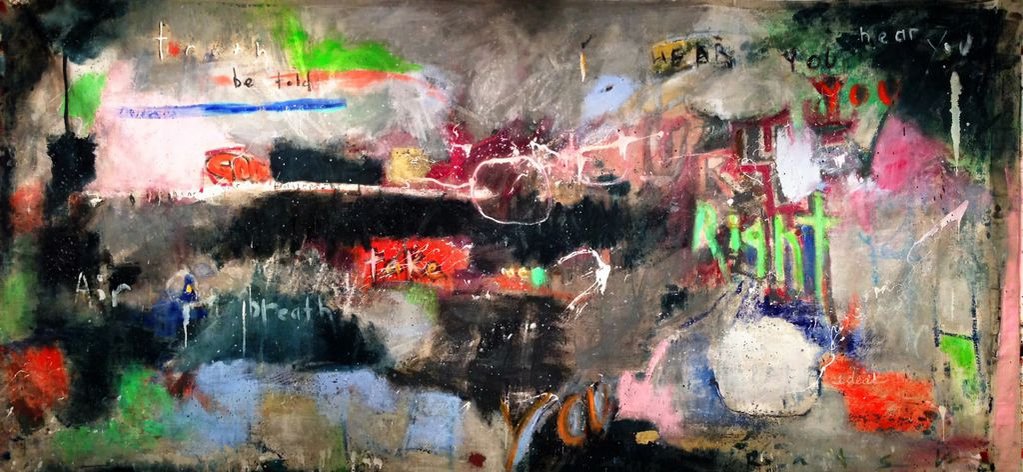 Rick Robinson
is a Downtown LA based artist. His Primitive Pop steel sculptures mix the raw iconography of Native American Petroglyphs with pop materials inspired by the California Cool School – think steel, gloss, polymer, metallics, day-glow spray paint. Rick has shown his work in galleries and public spaces all over the world – LA, SF, New York, Belgium, and Germany. Rick blends his art career with his day job as a media executive, currently serving as Chief Strategy Officer for Project X and as a member of the West Hollywood design review committee. His volunteer work includes supporting the arts as a former Board President for Art Share L.A. He blows off steam racing stock cars with his dad.